REMEMBERING A LOCAL LEGEND
"My dear Jack loved Vince as a brother and knew him to be a man of character, integrity, and honor. Pensacola has lost a noble man"
-Nancy Fetterman, widow of the late Vice Adm. Jack Fetterman
"Nobody could fill Vince Whibbs' shoes. For me, he was a great friend, and mentor. He was probably the finest community leader that our city has ever seen."
-Pensacola Mayor John Fogg
He put a face on Pensacola that no one else could duplicate."
-Retired Navy Captain Bob Rasmussen, Director of the National Museum of Naval Aviation
"He left his footprints all over Northwest Florida. He set the standard for all of us."
-U.S. District Court Judge Lacey Collier
"I have known Vince Whibbs for 40 years. He was one of the most remarkable people I have ever known."
-The Rev. Dr. Matt Currin, rector emeritus of Christ Church
"His Legacy will live on in his children. He was Mr. Catholic, Mr. Pensacola, Mr. Mayor."
-Bishop Martin Holley, auxiliary bishop for the Archdiocese of Washington, D.C.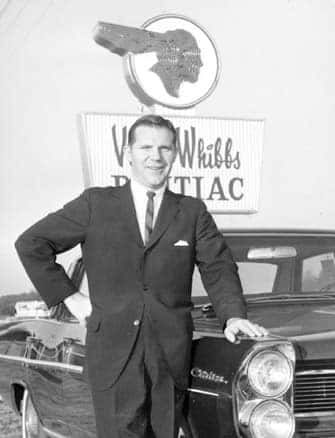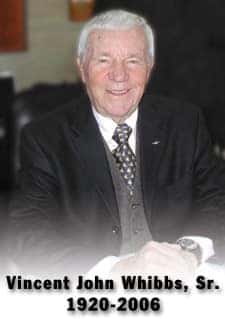 In 1958, Vince Whibbs embarked on a journey that would change his life and the lives of many others. This marvelous picture captures the courage and confidence of Vince in front of his new dealership in Pensacola Florida.
"On Behalf of our elected City Council, those 10 masterful men who manage our magnificent municipality; and on behalf of the chairman of our county commission and his four commissioners who constantly deal with the changing, challenging conditions of our county; and on behalf of our wonderful people who populate the Northwest Florida area, it is my privilege and pleasure as mayor to welcome you to Pensacola, the western gate to the Sunshine State, where thousands live the way millions wish they could, where the warmth of our community comes not only from God's good sunshine, but from the hearts of the people who live here. Welcome to Pensacola, America's first place city and the place where America began."
-Vince Whibbs